Meridian students 8th-12th grade are able to log into the Meridian BYOD wireless network with their student email credentials. Use these credentials to connect to the Meridian BYOD wireless network. Only one associated device may be used at a time per student account.
Before you'll be able to enter your student email credentials, you'll first need to connect to the 'Meridian BYOD' wireless network:
SSID:    Meridian BYOD
WPA2 Password:  meridian2011!

Once connected to the Meridian BYOD wireless network, open a browser such as Chrome or Firefox.  You'll be taken to a splash page where you can enter the Meridian BYOD credentials (your student email address and password.
IMPORTANT: If you do not see the Meridian BYOD login page shown below, go to neverssl.com. If you're having trouble connecting to the Meridian BYOD login page, try another browser than the one you're currently using.
You should see this page: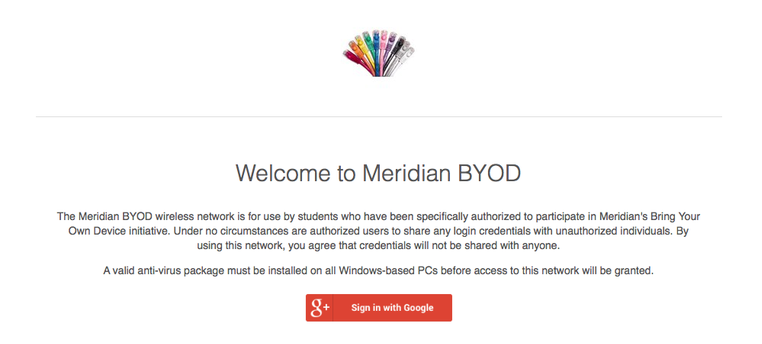 Once you click on the 'Sign in with Google' button, use your 'meridianstudents.org' email credentials to finish the login process: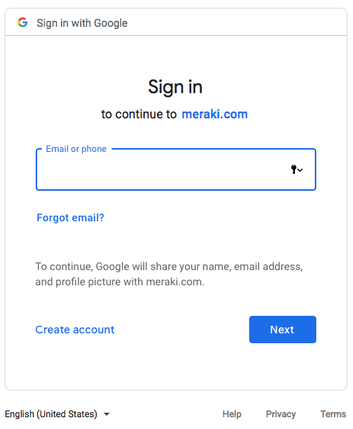 Printing From BYOD
Currently, there are two printers on campus configured for student use. The Middle School Library printer, and the High School Tech Commons printer. 
If you are using a Chromebook as your device, no additional setup is required. Otherwise, you will need to download and install the PaperCut Mobility Print software if using a Mac or a PC before printing to these devices:
Mac: https://drive.google.com/file/d/1dEP-G4VKCg1PzgQ1PWLQUZ62wjimRT1Q/view?usp=sharing
PC: https://drive.google.com/file/d/1O67GygLFioNYFY8Z-TjNUlHzxVLZOpx4/view?usp=sharing